EDIT MAIN
March 2020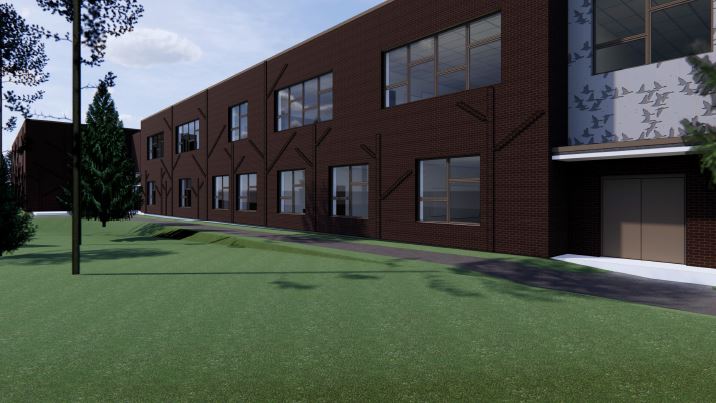 Construction has begun at Yarmouth Elementary School and Harrison Middle School. Arthur C. Dudley Contractors have been hired as the builders to oversee this extensive project.
As construction progresses, there are several significant inconveniences of which parents, staff and students should be aware.
The bike/ped path leading from West Elm Street to the Elementary School will be closed throughout the project. This is being closed temporarily for two main reasons:

In order to eliminate increased water from impervious surfaces running into the neighborhood on Tenney Street, a drainage unit is being installed that will draw the water from the school's new roof into the Town's stormwater system. To minimize the removal of trees in that area, the system will be installed directly underneath the existing path. The Police Department will be moving the crossing guard from the current location on West Elm up to the intersection with McCartney Street to assist students headed to and from YES and HMS.
Because of the expansive construction that will take place at the Elementary School, including the construction of a new parking area between Central Office and the School, it is necessary to ensure there is no pedestrian traffic in that area until the project is completed. Fencing will ensure pedestrians and cyclists are not entering the construction zone.

Informal pathways leading from adjoining neighborhoods to HMS will be impeded by fencing. Pedestrians will be able to walk along the outside of fences, but may have a longer traverse than is currently allowed by the pathways. Fencing will be removed once construction is completed.
Parking will become even more challenging at both schools.

At HMS, the "back"parking lot (closest to YES) will be used as a staging area for construction vehicles and materials. Much of the uppermost parking lot (closest to Hillside Street) will also be gated and open only for construction vehicles and equipment.
At YES, the small parking area just in front of Central Office will be closed off for construction staging, leaving the larger, lower parking area – which will become two-way for the duration of the construction. - along with the parking along Winslow Field for school activities

Student drop-off and pick-up at YES will be significantly different, as we will reserve what is now the "bus loop" for passenger vehicles, and buses will drop students at the corner of the playground, where the bus loop meets McCartney Street. Temporary fencing will provide a protected space for students to move back and forth from the bus to the playground. We will be out on the sidewalk the first few days after February break to help everyone adjust to the new traffic patterns. It is likely we will see things that need to be adjusted as we go through this process, but we are confident that we all have the best interests of children and their safety in mind, so we will make thoughtful decisions throughout this challenge to our routine.
We'll also be losing the 5th grade playground starting after the February break. We will have a small area outside of the art room available for 5th grade students who arrive at school before the school day begins. They will be able to engage in a few activities in that area and will have access to the larger playground for morning and afternoon recess.
Principals at each school are making plans to adjust scheduling of large-scale events to alleviate some of the parking concerns, but we are well aware that this temporary inconvenience will be noticeable and problematic for some.
The Middle School project should be completed by the end of this calendar year, while the Elementary School renovation and expansion will take approximately two years to finish.
We ask for your patience as we undergo this transformation in the school district.
January 2020
Arthur C. Dudley Contractor has been awarded the bid for major renovation and expansion of Yarmouth Elementary School and a smaller project at Harrison Middle School. These two projects, approved by the voters of Yarmouth in November, 2018, will total just under $28m and will provide updated spaces for our growing student population for the foreseeable future. Final permitting is in progress, and work is anticipated to begin in February.
December 2019
Work is progressing at Rowe School and Yarmouth High School. Lots have been cleared and foundation work has begun.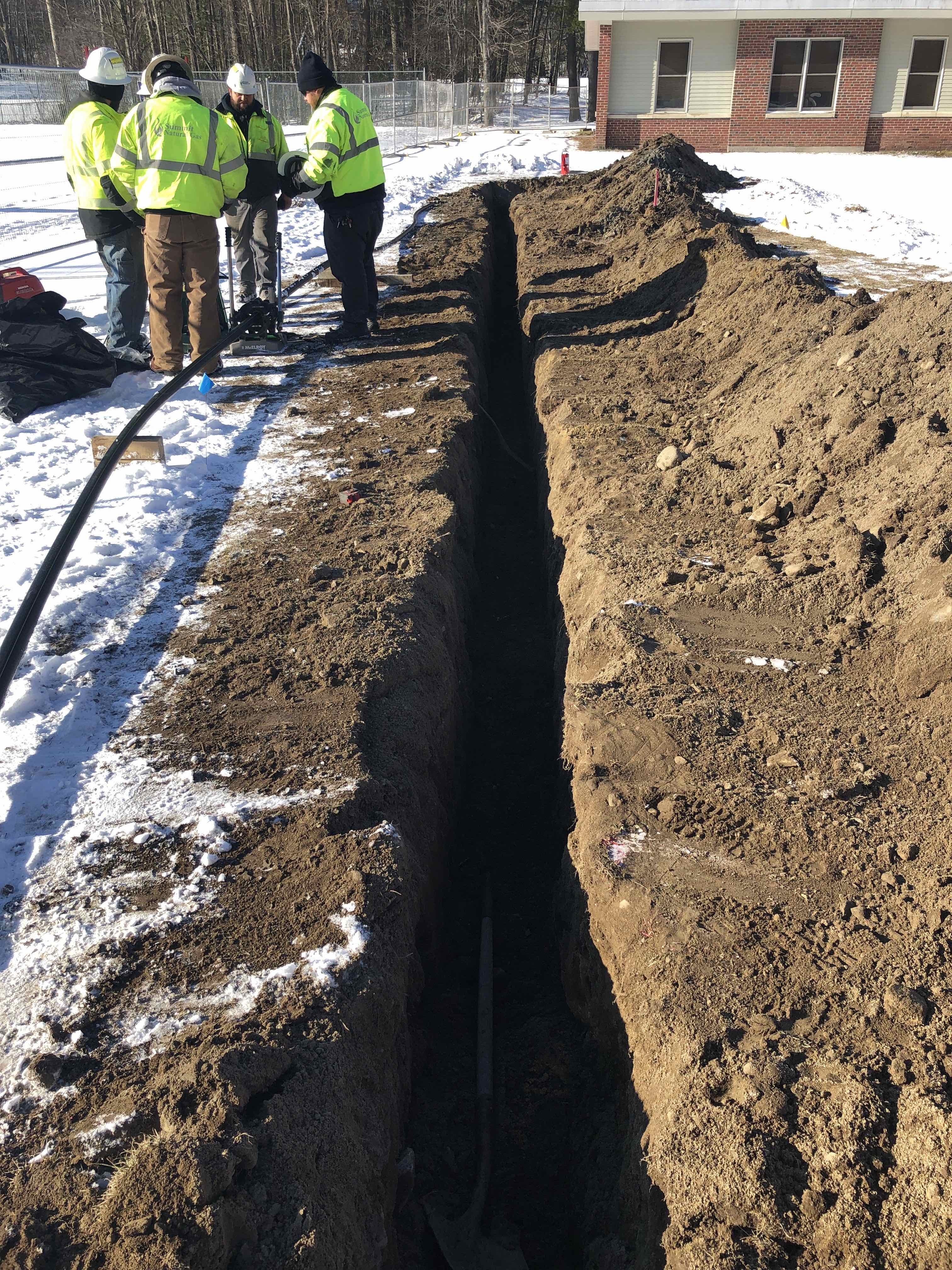 NOVEMBER 2019
Yarmouth High School Construction Bid awarded to Ledgewood Construction
OCTOBER 2019
Rowe School Construction Bid awarded to Blane Casey Building Contractors, Inc.
July 2019
Asbestos abatement has begun at Yarmouth Elementary School, with removal of floor tiles in all corridors in the school. This will leave the school looking a bit ragged for the coming year, but we are seeking economical ways to provide a clean and inviting look during construction.
a portable classroom has been installed at Harrison middle school. this will house two eighth-grade classrooms for the coming year.
the yarmouth planning board has provided final approval for the projects at rowe school and Yarmouth High school. final approval for harrison middle school and yarmouth elementary school is slated for july 24.
June 2019
Bid documents have been submitted for estimating. The committee is considering dividing the work into three projects:
1. Rowe School
2. Yarmouth High School
3. Yarmouth Elementary School And Harrison Middle School
This idea will be shared with the School committee on june 14. bidding should begin in september for the rowe project, with each of the other projects following in order with one month, approximately, in between each bid process.
APRIL 2019
Permitting continues, along with meetings before the Planning Board of the Town, as final construction documents are created. Asbestos removal at Yarmouth Elementary School is planned to begin in the summer of 2019, with a second round slated for summer of 2020.
MARCH 2019
The design phase of the projects has continued with ongoing meetings between the architects and engineers from Harriman, and many members of the school staff. The design team will meet with the Yarmouth Planning Board beginning on March 13, and permitting applications are being developed for Town and Department of Environmental Protection requirements. An October 22 groundbreaking for all four schools is anticipated.
January 2019
Building Committee formed - Architects selected for school expansion projects
In December the Yarmouth School Committee appointed a Building Committee to oversee the expansion and renovation of our four school buildings.
School Committee Members
Anne Fleming
Kate Shub
Laura Coroi
Sarah Day
Community Members
David Ray
Beth Costello
Tom Reinsborough
Michael Wilbur
Randall Bates
Jeanne Rapone
Town Councilor
Robert Waeldner
Superintendent of Schools
Andrew Dolloff
Yarmouth High School Student
Soleil Fournier (2021)
School Administration (as necessary)
Eric Klein, YHS Principal
Joan Adler, HMS Principal
Ryan Gleason, YES Principal
Susan Lobel, Rowe Principal
Susan Robbins, Athletic Director
Jodi McGuire, Instructional Support
Bruce Bickford, Facilities
Bruce Rudolph, Director of Finance
The Committee hired Harriman Architects and Engineers to provide design services for the projects. An early timeline of the work projects groundbreaking in October, 2019, with final completion of all four schools by the 2021-2022 school year.
The Building Committee will hold meetings on the following dates, from 5:00 p.m. - 6:30 p.m. at the Superintendent's Office:
Feb. 7
Mar. 7
Apr. 4
May 2
May 23
June 13
NOVEMBER 2018
School Bonds approved
The voters of Yarmouth on Tuesday, November 6 voted to approve funding for the expansion of all four Yarmouth schools and a complete renovation of our oldest facility, Yarmouth Elementary School.
Please view this abbreviated slide show for a quick overview of the proposed projects.
Read our Frequently Asked Questions document for updated information about the proposal!
View this comprehensive slide show to learn more about the project and the impact to the taxpayer.
The voters approved the bonds as follows:
(1)To authorize up to $39,800,000 in bond financing for renovation and expansion of Yarmouth Elementary School (McCartney St.), expansion and installation of security measures at Yarmouth High School (West Elm St.), a capital roof project at Harrison Middle School (McCartney St.), and restroom upgrades at Rowe School (School St.); including design, engineering and site improvements related to all these projects, and
(2) To authorize up to $12,200,000 in additional bond financing (only if Part 1 is approved) for construction and expansion of Rowe School, Harrison Middle School, and a capital roof project at Yarmouth High School; including design, engineering and site improvements related to all these projects.
A brief history of the challenges and solutions
Since 2008, student enrollment in Yarmouth Schools has increased more than 17%, from 1,393 nine years ago to the 2017-18 student count of 1,636. Two separate studies by independent researchers indicate that this trend is not going to end soon, and by 2027 Yarmouth may see enrollment of approximately 1,970 students. This is significantly higher than the total school building capacity and requires immediate attention.
To address these concerns, the School Committee formed a Facilities Assessment Committee. After a year of working with architects and engineers from Harriman, the Facilities Assessment Committee identified six options to address the facilities needs of the district, recommending "Option 4", which calls for:
An expansion at Rowe School to accommodate enrollment growth in Kindergarten and Grade 1, as well as address the likelihood that the State will be mandating that local school districts become responsible for administering programs for 3- and 4-year olds who are currently served by Child Development Services.
An expansion at Yarmouth Elementary School to accommodate enrollment growth, as well as a complete renovation of the existing facility to bring it up to current standards and ensure its viability for decades to come. As part of this project Grade 5 will be relocated to YES, reducing the scope of the construction project needed at the Middle School.
A small expansion at Harrison Middle School to account for enrollment growth, allowing for the removal of the portable classrooms that have been on-site almost from the day the school opened.
An expansion at Yarmouth High School to account for enrollment growth and evolving programming (e.g. robotics and STEM).
Yarmouth Elementary School is the oldest building in the district. A major renovation of the existing building will provide the upgrades needed to keep the school viable for decades to come. Enrollment growth at YES continues to be significant, requiring a large addition of classroom and core spaces. In order to avoid a similar expansion at the Middle School, it was decided to shift Grade 5 from HMS to YES as part of this project.
As illustrated below, the entire existing building (lightly shaded) would receive upgrades to all systems, while a large expansion would provide for the needed additional classrooms and core spaces. By renovating and expanding the existing school, the Committee was able to reduce the overall cost of these projects significantly (as compared to construction of a new school). Increased parking and improved security features will complete the transformation of YES into a modern facility.
Yarmouth Elementary School – First floor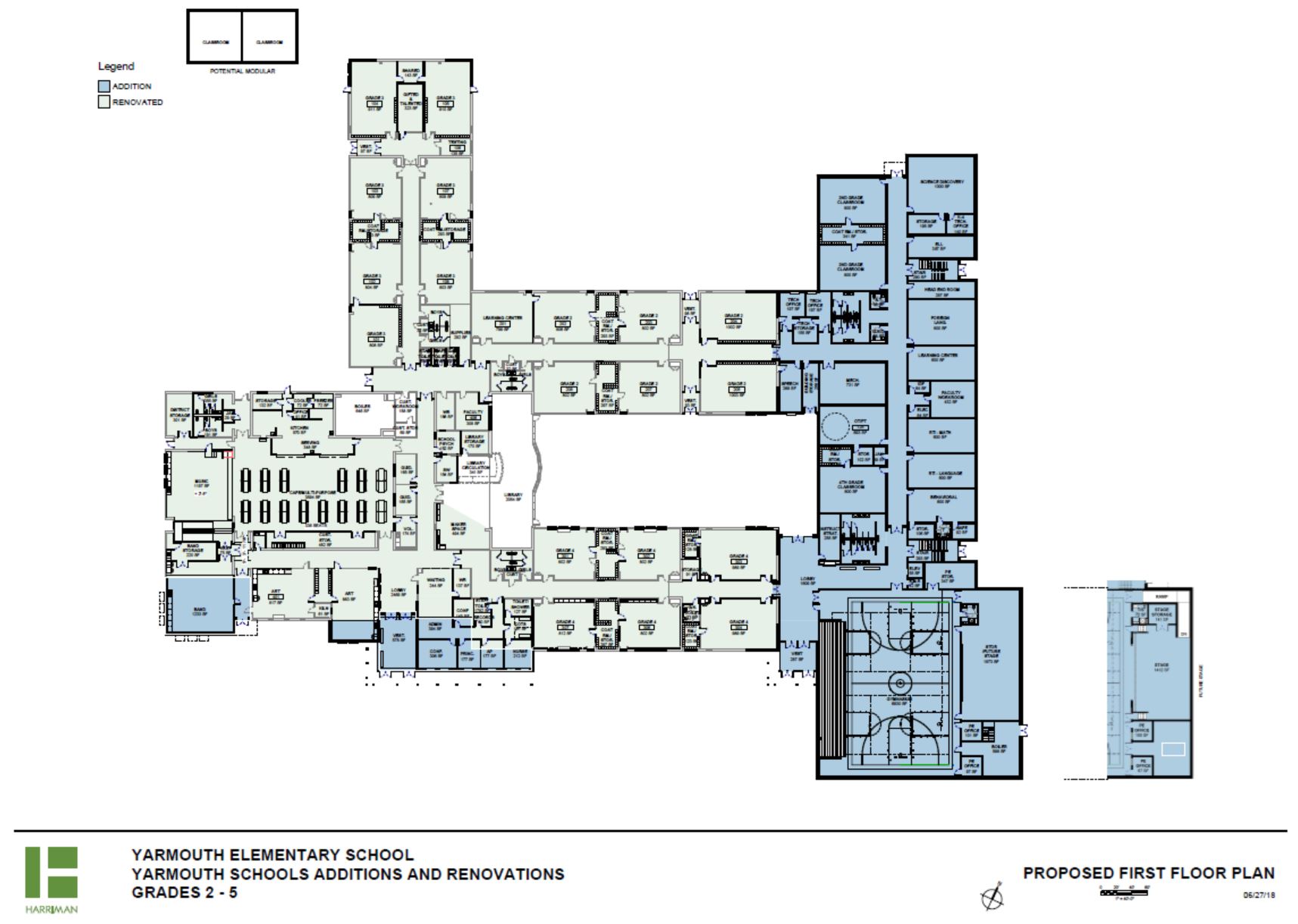 The capacity of the expanded school will be 689, with a projected enrollment in 2027 of 612.
The High School is the only school in the district that does not provide a security vestibule connected to the main office for school-day entrance into the building. By relocating the main entrance to the Southeast side of the building, a more secure entrance is created. An efficient plan for enrollment growth includes removing the fitness room from the center of the plan, allowing for expansion of the cafeteria. The fitness room will be recreated next to the gymnasium. Expansion of the performing arts areas will take place next to the Performing Arts Center, and a two-story classroom addition will extend off the current academic wing on the Northeast side of the building.
Areas shaded in orange on this diagram indicate spaces that will be re-assigned or renovated for new purposes. Moving the athletic offices to new spaces next to the gymnasium will provide space in the middle of the plan for needed guidance counselors and social workers, while other spaces throughout the school will be reassigned for purposes such as special education, robotics, and regular classrooms.
The capacity of the expanded school will be slightly more than 700, with a projected 2027 enrollment of 653.
Yarmouth High School – First floor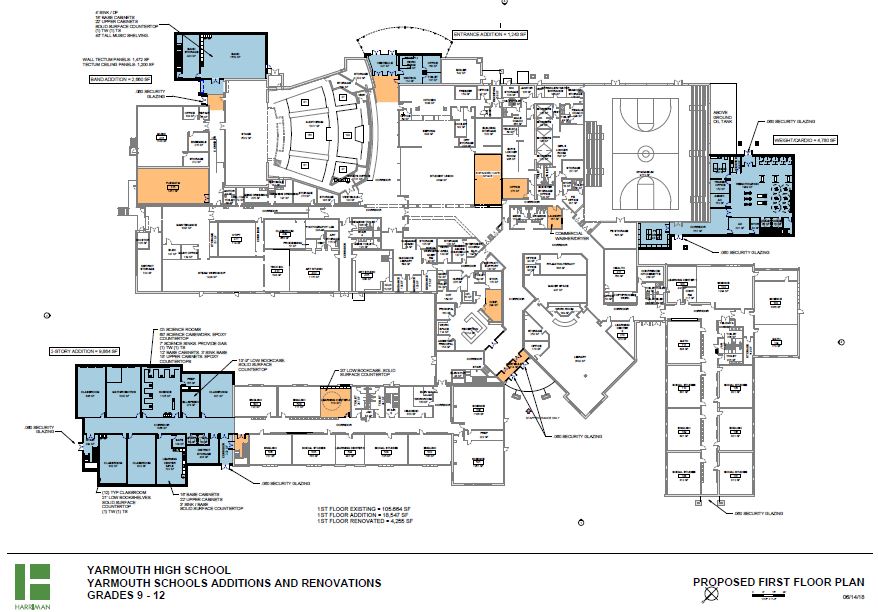 At Rowe School, additional classroom space is needed to handle growing enrollment. By September of this year, a portable unit will be installed on the site, with a seventh kindergarten classroom moving into what is the current art room. Music classes have already been displaced from a dedicated space, moving into the library. These shared spaces do not provide students with the high-quality experience expected of our schools. Adding to this dilemma is the call for local school districts to take over programming that is currently provided by Child Development Services (CDS) of Maine. This could bring an additional 60 students to Rowe School in the next two years. This plan does not add space for public pre-k programming, which is a separate program from CDS.
To provide the spaces necessary to handle these additional students, Rowe School must grow by 7 classrooms, along with additional rooms for instructional support services and larger core spaces such as the library and cafeteria/gymnasium.
In the illustration below, the darker shaded areas represent new construction. The additional instructional spaces would extend off the main corridor of the building, pushing the school's boundaries onto the edge of Royal River Park. The cafeteria would be expanded off the front corner of the building, closest to Route 1.
William Rowe School
The capacity of the renovated school will be 266 in Kindergarten and Grade 1 with a projected 2027 enrollment of 228. The school would also accommodate up to 64 CDS students.
The Middle School will be the least impacted facility in terms of construction. By moving Grade 5 to Yarmouth Elementary School, the projected enrollment at HMS will drop to 479 in 2027. Currently, two portable classrooms bring the capacity to 525, while approximately 540 students are enrolled. By adding a small addition of classrooms to one end of the building and relocating music classes to new, appropriately-sized spaces at the other end of the building, the facility will meet the needs of up to 525 students.
Frank Harrison Middle School – First floor