All Yarmouth High School Fall Sports Teams have canceled practice for today, Tuesday, October 13th.

Harrison Middle School Fall Sports Practices Canceled today due to weather forecast.




Cross Country Meet scheduled for Monday, October 12th has been cancelled. The Boys' and Girls' Teams will compete again on Friday, October 16th against the Freeport Falcons.

Boys' Soccer Team defeats host Cape Elizabeth yesterday 4-1. Scoring for the Clippers - Aidan Kamm, Will Caruso, Ian LaBrie, and Will Hunter. The Clippers host Greely Sat., Oct. 10th. FT @ 3:30 pm (Winslow Field) JV @ 3:00 pm (Turf) Varsity @ 5:00 pm (Turf)

Congratulations to the Golf Team who defeated Gray-New Gloucester on October 6. Yarmouth's team score - 158 and GNG's team score - 181 The Clipper's Golf Team will compete in the State Championship on Saturday, October 10th at Natanis. Good luck!

Congratulations to the Yarmouth Golf Team who qualified for the State Championships as a team with a 2nd place finish in the WMC Qualifier. Individual scoring: Miles Hagedorn 84 Quinn Federle 84 Nate Hagedorn 84 Andrew Cheever 84 Sebastien Martinez 88 Reece Perry 105




Still need to register for fall sports?? Below is the link (copy and paste into your browser) to our Yarmouth Athletics RSchool Today Turbo Team Site where you can register as well as see important information and so much more!
https://yarmouthhs.rschoolteams.com/

Activity Registration Update If you are preparing to register for athletics or have completed the process, please make sure to provide student's school email address, parent' email address, and mobile provider. That information is necessary for our Daily Health Screening App.


Fall Sports Information Night Monday, August 24, 2020 7:00 p.m. For more information and the Zoom Meeting link, check the News section of the Athletics Page.

CLASS OF 2020~ Did you earn a 3 activity pin or plaque?? Mr Creech and Sarah are in the office today until 4:30, please stop in to grab it. Call from the Main Office door 846-2329:)

Attention Student Athletes Athletics Equipment/Uniforms Drop Off Dates & Times Grade 12: Wed., June 3, 11:00 - 3:00 Grade 11: Thu., June 11, 9:00 - 11:00 Grade 10: Thu., June 11, 11:00 - 12:30 Grade 9: Thu., June 11, 1:00 - 3:00 All Grades: Thu., June 11, 3:30 - 6:30

Maddie Hayes Salute to Seniors Profile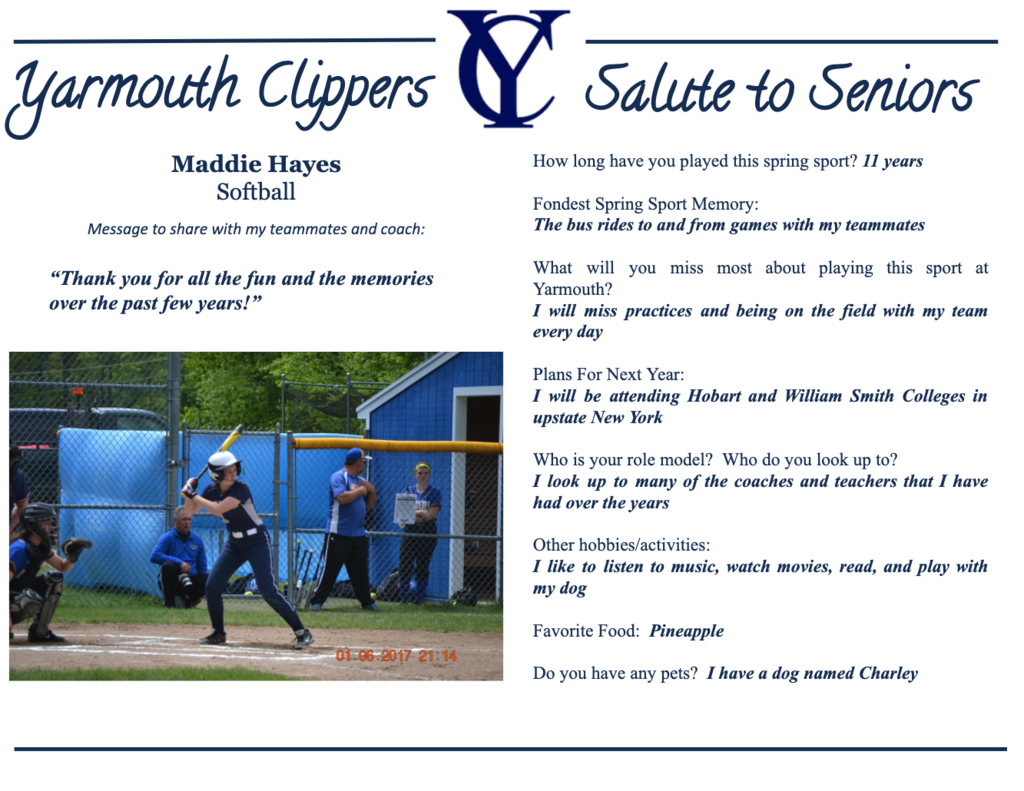 Emi Schneider Salute to Seniors Profile